Civil War in Marshall County: The Courthouse Square
Location:
201 Marshall County Courthouse
Lewisburg, TN 37091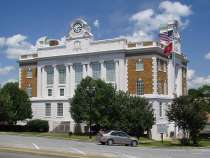 After the attack on Fort Sumter in April 1861, when the Civil War began, a large majority of Marshall County residents supported the Confederacy. They gathered on the Courthouse Square for war news and information about how and where to enlist. At least twenty companies of county men were mustered into Confederate service. Nearly equal numbers of cavalry and infantry units were raised. Almost all of the cavalrymen lived in the northern part of the county, while the infantrymen enlisted from the southern part. The county's Unionists went elsewhere to join the Federal army. The first Marshall County Courthouse, a two-story brick building with a center cupola, was completed in 1838 and stood in this same location during the war. The 10th Illinois Infantry marched through Lewisburg on August 22, 1863, on its way to Chattanooga. Some of the soldiers entered the courthouse and, fueled by a barrel of whiskey they discovered there, took numerous papers and law books.