Fort Defiance: Defending the River
Location:
120 A. Street
Clarksville, TN 37040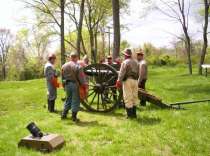 These are the remnants of Union Fort Bruce. In September 1861, the Confederate defense line in the western theatre extended from Columbus, Kentucky, to Cumberland Gap in East Tennessee. It included most of the Cumberland River and protected the Memphis, Clarksville and Louisville Railroad, as well as the major supply base at Nashville. The three small forts constructed at Clarksville were integral parts of this perimeter.