Battle of Dover: War Returns to Stewart County
Location:
117 Visitor Center Lane
Dover, TN 37058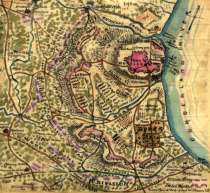 Union and Confederate forces clashed near here again on February 3, 1863, almost one year after the Battle of Fort Donelson. Confederate Gen. Joseph Wheeler attacked Dover's 800-man Federal garrison after he failed to disrupt Union shipping on the Cumberland River. Lt. Col. Arthur A. Smith was posted in the cemetery with Companies I and F, 83rd Illinois Infantry (Co. C in reserve), and one gun fromBattery C ("Flood's Battery") to defend the Union right flank. At 3 P.M., Confederate Gen. John A. Wharton's brigade advanced here in coordination with Gen. Nathan Bedford Forrest's cavalry charge on the Union left.