7th Tennessee Infantry Flag
Provided by:
Historic Civil War flags provided by the Tennessee State Library and Archives and the Tennessee State Museum.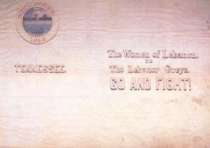 Organized May 1861, in Middle Tennessee, the 7th Tennessee became, along with the 1st and 14th Tennessee Infantry regiments, part of what was called the Tennessee brigade, army of Northern Virginia. The 7th and 14th stayed together until Lee's surrender.

With Stonewall Jackson, the brigade destroyed the railroad bridge at Bath, Virginia. They served in brigades commanded by Gen. Joseph Johnston and Brig. Gen. Robert Hatton. After Hatton's death at Seven Pines, Brig. Gen. James J. Archer assumed command. They gained fame as part of Archer's Brigade, with a reputation for courage and determination.



The 7th Tennessee was part of Pickett's Charge at Gettysburg, and fought bravely until Appomattox. In their last battle at Hatcher's Run, Virginia, the last 100 fought, outnumbered, with their backs to a pond, trying to defend their battle flag, until thousands of Federals surrounded them and forced the surrender of the "Hurricane Rifles" of the 7th Tennessee.