32nd Tennessee Infantry
Provided by:
Historic Civil War flags provided by the Tennessee State Library and Archives and the Tennessee State Museum.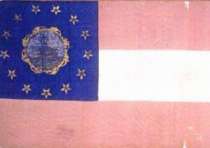 On October 28, 1861, the 32nd Tennessee Infantry was formed with ten companies from Middle Tennessee, including 400 young men from Giles County. When ordered to report to Confederate General Albert Sidney Johnston, this unit had almost no military experience.



The 32nd, with 850 men and 500 muskets, guarded the important railroad bridges from Bridgeport, Alabama, to Chattanooga, Tennessee, and helped suppress Unionist activities in the area. In January 1862, the 32nd Tennessee became part of Col. John C. Brown's Brigade. During the winter of 1861-62, about 300 of the unit's men were lost to accidents, disease, and cold weather.



The 32nd Tennessee fought at Fort Donelson, with 36 wounded and three were killed. On February, 16, 1862, Fort Donelson surrendered, and 528 members of the 32nd Tennessee were taken prisoner.

In September, the men of the 32nd were exchanged and the regiment reorganized in Jackson, Mississippi. They saw action at Murfreesboro and at Chickamauga as the center regiment of Brown's Brigade. The regiment had 900 men, but some reports say that only 361 were able for duty. The 2nd Tennessee suffered more than 165 casualties, followed by 18 casualties at Lookout Mountain and Missionary Ridge. As Gen. Joseph E. Johnston's Army of Tennessee retreated through Georgia, the 32nd Tennessee fought its way south, with battles at Swamp Creek, Resaca, New Hope Church, Powder Springs Road and Kennesaw. More than half the men of the 32nd Tennessee were killed or wounded at Powder Springs. The Battle of Jonesboro, Georgia, took a heavy toll on the remnants of 32nd.



After helping Forrest set up a Christmas Day ambush at Pulaski, what remained of the 32nd eventually went to General Joseph E. Johnston's army in North Carolina. They fought in Columbia, S.C., and in the last battle of the Army of Tennessee, at Bentonville, North Carolina.



After Appomattox, the battle-worn 32nd Tennessee was paroled at Greensboro, North Carolina, on May 1, 1865 and began the long walk home to Giles County.


Tools
Key Facts
Formed with ten companies from Middle Tennessee
Guarded important railroad bridges from Bridgeport, Alabama, to Chattanooga
Many taken prisoner at Fort Donelson but were exchanged
Saw action at Murfreesboro, Chickamauga, Lookout Mountain, Missionary Ri
Related