Small engraved pewter cup
Provided by:
Tennessee State Library and Archives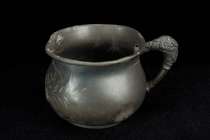 Small pewter cup with flowers engraved on the body and handle. The owner of the cup, Josiah H. Harper, fought with Confederate cavalry commander Gen. Joseph Wheeler. Harper was born in the Rock City community in Smith County, Tenn. and married Mary F. Wilson.