26th Tennessee Infantry regiment
Provided by:
Historic Civil War flags provided by the Tennessee State Library and Archives and the Tennessee State Museum.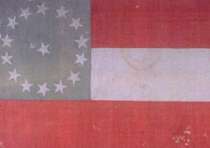 The 26th Regiment, Tennessee Infantry (3rd East Tennessee Volunteers) was organized in September, 1861, at Camp Lillard, near Knoxville. reorganized September, 1862; formed part of 4th Consolidated Tennessee Infantry Regiment. The regiment was formed of men from Meigs, Cocke, Washington, Grainger, Rhea, Knox, Roane, Hamilton and Sullivan Counties. Highly praised for their courage at Fort Donelson, most of the regiment was taken prisoner. Later paroled and reorganized in Knoxville, members of the unit fought at Murfreesboro, Chickamauga and Chattanooga. Only a remnant of the 4th Consolidated surrendered in April, 1865, was paroled at Greensboro, NC, May 1, 1865.
Tools
Key Facts
Fought at Fort Donelson, Murfreesboro, Chickamauga and Chattanooga
Many captured at Fort Donelson, killed at Murfreesboro
Related