17th Tennessee Regiment, Campbell County
Provided by:
Historic Civil War flags provided by the Tennessee State Library & Archives and the Tennessee State Museum.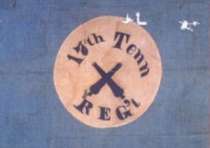 Mustered into Confederate service at Big Creek in Campbell County and placed under command of Gen. Felix Zollicoffer. After Zollicoffer was killed at Fishing Creek, KY, the 17th fought in Bragg's invasion of Kentucky, at Munfordville and Perryville.



The 17th lost almost half of its men at Murfreesboro under Cleburne and again suffered 50 percent casualties at Chickamauga. With Longstreet in Knoxville and East Tennessee, the regiment then was transferred to Northern Virginia in 1864. After many battles in Virginia, the 17th surrendered at Appomattox with only 70 of its original 1,000 men.