14th Tennessee Infantry
Provided by:
Historic Civil War flags provided by the Tennessee State Library & Archives and the Tennessee State Museum.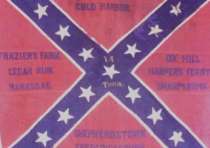 Organized in May 1861, at Clarksville, the 14th almost immediately received orders transferring it to the Virginia theater.



Nearly 1,000 officers and men served in the 14th Tennessee. Only about 40 remained alive by the time the regiment surrendered at Appomattox, after hard fighting in more than two dozen battles. At Gettysburg alone, the regiment lost 58% of the men who started the battle.



The regiment served with distinction in the Army of Northern Virginia until the final days, fighting in almost every major battle conducted by Robert E. Lee.



The 14th served as part of Archer's famed "Tennessee" brigade assigned to AP Hill's Light Division, which had a hard-won reputation for critical counterattacks preserving Confederate victories at Cedar Mt., 2nd Manassas and Sharpsburg and at Chancellorsville.
Tools
Key Facts
Of the original 1,000 members, only 40 survived.
Served with distinction in the Army of Northern Virginia until the final days