Drawing of Rock Island, Ill. Prison drawn by Confederate POWs
Provided by:
Tennessee State Library and Archives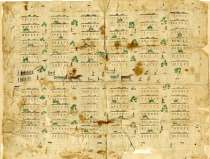 Hand-drawn ink & watercolor of Rock Island Prison by J. M. Breeding. Possibly created for Christian Buhler, who was in the prison for 17 months and 12 days in Barracks #5. Drawing shows barracks, stockade & parapets, horses, guards, a burial detail, a wooden horse punishment device, and Federal wagons. Particularly unhealthy, Rock Island was in the Mississippi River.