Tintype of Union soldier who fought in Tennessee
Provided by:
Tennessee State Library and Archives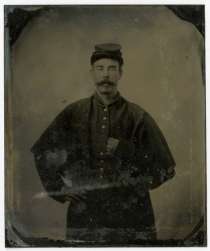 Oliver Rodgers, Co. G, 44th Ill. Vol. Inf., USA, wearing uniform and kepi. Rodgers enlisted in Chicago and fought at Perryville, Stones River, Chattanooga, and Chickamauga. He was sent to Nashville when he became ill.