Letter from Asa D. Oakley in Northern prison camp to "Dear Companion"
Provided by:
Tennessee State Library and Archives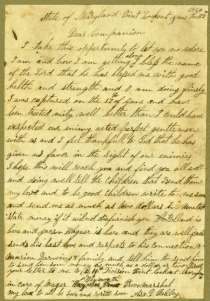 Letter from Asa D. Oakley to wife, Mary Louisa Kennerly Oakley, dated June 25, 1864, from Point Lookout, Maryland (prison camp). Asa reports that he has been "treated mighty well" by his captors. Sgt. Oakley, from Coffee County, was in the 44th Tenn. Inf. Regt., CSA. The regiment was organized at Camp Trousdale in Dec. 1861, and fought at Shiloh, Tullahoma, Wartrace, and Chickamauga. Asa died Sept. 21, 1916.