Camp Trousdale
Location:
5901 U.S. Highway 31 W.
Portland, TN 37066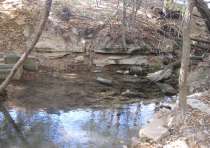 A training camp for the Confederate army, many well-known faces passed through here. The camp, named for a former Tennessee Governor, had 3 different sites, moved each time because of illness and water supply problems.
Camp Trousdale, named for former Tennessee Governor William Trousdale, operated from late May 1861 to February 15, 1862. The camp had three different sites, moving each time due to illness and shortage or contamination of the water supplies. The first site was near the depot at Richland Station, now Portland, about 100 yards from the Louisville and Nashville Railroad and was operational from late May to approximately June 11. Water supplies dwindled and disease rapidly set in, forcing a relocation of the camp about two miles northeast to property owned by a local farmer. A spring provided a sustainable water source for this second site, and the slightly rolling terrain drained better than the flat fields of the Richland Station site, helping with the epidemic of diseases that beset the troops. Tents were pitched in a grid formation, and the men gave street names to the pathways between the rows. Near the entrance of the camp was a rough-hewn log structure known as the "wolf pen," a guardhouse used as a temporary jail for insubordinates and unruly soldiers. Due to the resurgence of disease, an 1857 schoolhouse, Cold Spring School, became an improvised hospital. This second wave of illness has been attributed to open latrines and contamination of the spring by the disposal of butchered hog and beef cow carcasses into on-site sinkholes. Disease, mainly measles, diarrhea, and dysentery, caused the number of sick in the camp to rise to about one sixth of its total population, roughly 900 out of 6000 men in hospitals or in quarters. This number does not include the many men given furloughs to return home for recuperation. Ultimately, Confederate medical command recommended the relocation of the camp to a plot of land not previously used for this purpose. Camp Trousdale's relocation to its third site in nearby Mitchellville began in mid-September and was complete by mid-October. Confederate forces abandoned the Mitchellville site on February 15, 1862, following Confederate defeats in Kentucky and the growing force of Gen. U. S. Grant's army along the Tennessee and Cumberland Rivers along the Kentucky-Tennessee line.
Tools
Key Facts
Named for former Tennessee Governor William Trousdale
Operated from late May 1861 to February 15, 1862
Third site, in Mitchellville, was abandoned in February 1862, after Confederate defeats in Kentucky and the growing force of Grant's army
Related