Theodrick "Tod" Carter
Affiliation:
Confederacy
Unit:
20th Tennessee Volunteer Infantry
Rank:
Captain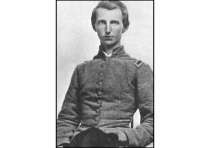 Born on March 24, 1840 in Franklin, Tennessee, Theodrick "Tod" Carter was the tenth son of Fountain and Mary Carter. Tod studied at the famous Harpeth Academy and embarked on a career in law. In the summer of 1861, he mustered into military service at Camp Trousdale in Sumner County. His company joined nine others at Camp Trousdale to become the 20th Tennessee Volunteer Infantry. About a year after his enlistment, Carter was promoted to Captain in the Quartermaster Department. He also became a war correspondent for The Chattanooga Daily Rebel and wrote under the pseudonym "Mint Julep." On November 25, 1863, at the Battle of Missionary Ridge, Carter was taken prisoner and transported to Johnson's Island in Ohio. While being transferred to another prison in Maryland, Carter escaped by jumping off a moving train. He made his way to Memphis by way of the Ohio and Mississippi Rivers, and from there went to Dalton, Georgia, to rejoin the 20th Tennessee. During John Bell Hood's invasion of Middle Tennessee, the Confederate Army of Tennessee attacked Carter's hometown of Franklin on November 30, 1864. With his home in sight, Capt. Carter and his men surged toward the house, but before reaching it, the captain was shot in the head. Following the battle, Carter was found by his family in the field where he fell and taken back to his home, where he died surrounded by family and friends.


Tools
Key Facts
Son of famous Carter family of Franklin
Studied law, became a war correspondent
Captured at Missionary Ridge, escaped from moving train
Shot within site of his home at the Battle of Franklin, died there
Related