Civil War drum and drumstick
Provided by:
Tennessee State Library and Archives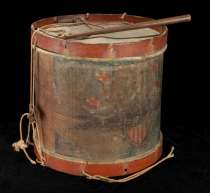 This drum may have been carried by a member of the Worrell family of Haywood (later Crockett) County during the Civil War. The drum has an eagle and a red, white, and blue crest painted upon it. The head and skins are probably original.