General John Hunt Morgan's shaving kit
Provided by:
Tennessee State Library and Archives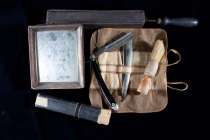 Razors, strap, and mirror confiscated by Cpl. Andrew Potter, 13th Tenn. Cav. Regt., from General John Hunt Morgan after Morgan's assassination in Greenville, Tenn. Family legend states that Potter was a member of the party that killed Morgan.