Joe L. Weakley Sr., American Zouave soldier
Provided by:
Tennessee State Library and Archives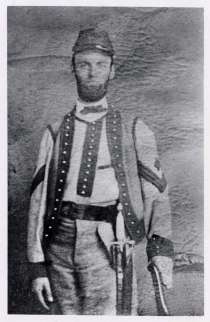 Three-quarter length portrait of Joe Weakley Sr., believed to be a "Dunlap Zouave." He wears a traditional Zouave uniform with kepi and has an infantry sword on his belt.
Tools
Key Facts
Zouaves regiments adopted the dress and tactics of North African French light infantry
Some regiments selected it as their standard uniform; others were awarded the uniform for impressive service.