Sam Watkins
Affiliation:
Confederacy
Unit:
Company H, First Tennessee Infantry
Rank:
Private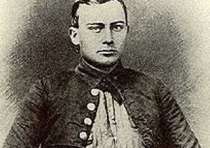 A Private in Company H, First Tennessee Infantry, Sam R. Watkins is today one of the most well-known common soldiers in Civil War history. Despite his low rank, Watkins has found immortality through his 1882 memoir Company Aytch.

Born in Maury County, Tennessee in 1840, Watkins enlisted in the army when Tennessee seceded in 1861. His unit served in the mountains of Western Virginia during the brutal winter of 1861-62 and received its baptism by fire at Shiloh that April. Watkins fought on both days at Chickamauga, and his account of the chaos in the woods along Brotherton Road on September 19th stands as one of the best accounts of the battle by any participant.

The First Tennessee continued its hard service in the Army of Tennessee through the end of the war, and Watkins recorded his and his comrade's wartime experience for posterity two decades later with his wildly successful memoir.

As enduring a piece of Civil War literature as Company Aytch has been, it is not without its limitations. In framing his war narrative, Watkins was careful to exclude any significant discussion of the war's causes and its continuing effects on the Middle Tennessee society in which he lived. The absence of slavery from the memoir is staggering, particularly considering that Sam's father, Frederick, owned more than 100 enslaved African Americans. Incredibly, Watkins was not an outlier in his company. Nearly half of the company with which he left Maury County in 1861 came from slave-owning households.

Nor was the issue of slavery left at home in Tennessee. As many as fifty African American servants were brought into the field to serve the privileged soldiers of the First, Watkins brought a slave of his own, a man named Sanker. As constant a presence as these enslaved men were in the unit, however, Watkins never acknowledged them in the pages of his memoir, effectively purging slavery from his account of the war. Watkins's memoir is a case study in the processes of both remembering and forgetting that help shape what we teach, think, and believe about the Civil War.
Tools
Key Facts
His memoir, Company Aytch, made him one of the best-known soldiers of the war.
Related