Sumner A. Cunningham
Affiliation:
Confederacy
Unit:
41st Tennessee Infantry Regiment
Rank:
Soldier, Journalist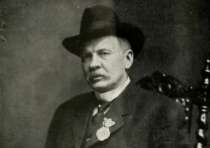 Sumner Cunningham enlisted with the 41st Tennessee Infantry Regiment in November 1861, when he was barely 18. He was so tiny that the barrel of his rifle was shortened to render it easier for him to carry and aim. He was captured at Fort Donelson in February 1862 and imprisoned at Camp Morton in Indianapolis, Indiana. Exchanged after six months, he went on to be part of several well-known battles: the siege of Vicksburg, Chickamauga, Missionary Ridge, Atlanta, Franklin, and Nashville. Ill and battered in Confederate losses at Franklin and Nashville, Cunningham deserted in December 1864. His most important contribution was establishing the magazine the Confederate Veteran in the mid-1890s. Serving to unite "the Veterans, the United Daughters of the Confederacy, and other Southern patriotic organizations," it was the medium for raising money for memorials for the Confederate dead. Cunningham was instrumental in fundraising for the Sam Davis monument on Capitol Hill in Nashville. He led former Camp Morton prisoners in fundraising for a bust of the camp's commander Col. Richard Owen, now housed in Indiana's capitol. The Confederate Veteran allowed veterans to tell their recollections of battles, events, and influential figures. Cunningham's recollections of Franklin and the death of Gen. Otho Strahl are especially poignant. Positioned near The Carter House, Cunningham aided Gen. Strahl in reloading weapons for shooters atop the earthworks when they took on a disastrous volley. The wave of bullets cut down the men on the earthworks. Upon word from Strahl, Cunningham "took position with one foot upon the pile of bodies of my dead fellows, and the other in the embankment, and fired guns which the General himself handed me." Another volley struck the man to Cunningham's right and hit Strahl in the neck. The general fell forward, and Cunningham assumed he was dead. Cunningham asked the man next to him where he had been hit. Thinking the question had been posed to him, Gen. Strahl "raised up and said he had been shot in the neck…." After the battle, Gen. Strahl was one of six Confederate generals who had perished.
Tools
Key Facts
Captured at Fort Donelson, fought at Vicksburg, Chickamauga, Missionary Ridge, Atlanta, Franklin, Nashville
Founded The Confederate Veteran magazine, wrote poignant memoirs
Fundraiser for many memorials
Related