Isham G. Harris
Affiliation:
Confederacy
Rank:
Governor, Senator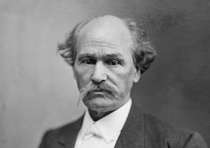 Governor and U.S. Senator Isham G. Harris was born near Tullahoma, Franklin County, on February 10, 1818. Harris's early business ventures included running several merchandise stores, but in 1841 he obtained admission to the Tennessee bar and quickly acquired a reputation for honesty and legal proficiency.



Harris's long political career began with his election to the Tennessee State Senate in 1847. The next year, he won election to the U.S. House of Representatives. Reelected in 1850, he declined a third term in order to practice law in Memphis. In 1857, Harris was elected governor of Tennessee. He won reelection in 1859 and 1861.



Harris urged secession after Abraham Lincoln's election as president in November 1860. On April 25, 1861, following the bombardment of Fort Sumter, South Carolina. After an earlier unsuccessful attempt to persuade Tennesseans to secede, Harris pushed through the general assembly an ordinance of independence and another one allying Tennessee with the Confederacy; both won voter approval in a June plebiscite. He raised 100,000 troops for the Confederacy and remained as governor until forced to flee the state after the Union capture of Nashville in 1862.



Serving in the Confederate army at headquarters of the Army of the West for the last three years of the Civil War, Harris participated in all the important battles in Tennessee and those of the Army of the West except Perryville (1862).



Following Robert E. Lee's surrender at Appomattox Courthouse in April 1865, the impoverished Harris fled south to avoid capture and imprisonment. He escaped to Mexico, where he lived for 18 months before spending a year in England. In 1867 he returned to Memphis to resume his law practice and attempt a political comeback.



In 1877, the legislature elected Harris to the U.S. Senate; he won reelection in 1883, 1889, and 1895. He became a well-respected and influential member of Congress, supporting southern Democrats and achieving victories for his home state. Harris died in Washington, D.C., on July 8, 1897. He was buried in Elmwood Cemetery in Memphis.
Tools
Key Facts
Congressman, Governor, Senator.
Pushed secession measures through general assembly after first measure failed.
Fought with Confederate army in the last three years of the war.
Related