Dr. Mary Edwards Walker
Affiliation:
Union
Unit:
52nd Ohio Infantry Regiment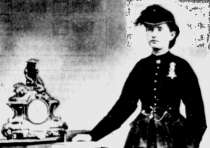 Dr. Mary E. Walker, eccentric, courageous, and stubborn, became the first woman to receive the Medal of Honor. Upon recommendations from Gen. George H. Thomas and Gen. William T. Sherman, President Andrew Johnson bestowed the commendation on Walker on November 11, 1865, citing her devotion "with much patriotic zeal to the sick and wounded soldiers, in the fields and hospitals, to the detriment of her own health" and hardships endured as a prisoner of war. Her journey to Federal medical service was long and tedious, fighting the sexism and egoism of male dominated Civil War-era medicine. Offering her services shortly after the fall of Fort Sumter in 1861, Walker was appointed a surgeon's assistant; the government refused to give her a legitimate commission and regarded her as a volunteer despite her graduation from Syracuse Medical School in 1855. Walker travelled from one battlefield to another, one hospital to another, providing medical care. Her work brought her to Chattanooga in September 1863 to treat the 7,500 wounded from the Battle of Chickamauga. In January 1864, Walker finally received her commission and served the 52nd Ohio Infantry Regiment as assistant surgeon and served both soldiers and civilians. On April 10, 1864, she was captured delivering letters beyond the lines. After four months in a Richmond, Virginia, prison, Walker was exchanged for a Confederate major and returned to Clarksville, Tennessee, to oversee the Tennessee Orphan Asylum. Despite her selfless service, her country slighted her in 1917; a commission reviewing the 2,625 Medals of Honor awarded to date revoked 911 medals—including Walker's. The commission said, "nothing had been found in the records to show the specific act or acts for which the decoration was originally awarded" even though many men retained their medals for actions as simple as bringing water to wounded soldiers. Walker saw the disparity and replied to the request to return the medal stating simply, "Over my dead body." She wore the medal every single day until her death at age 87 on February 21, 1919. Her name was restored to the Medal of Honor rolls after a 1977 appeal.
Tools
Key Facts
The only woman to receive the Medal of Honor
Refused a government commission as surgeon, first served as a volunteer nurse
Served both soldiers and civilians as surgeon
Captured, sent to Confederate prison
Medal revoked, then restored posthumously
Related