Carrie Winder McGavock
Affiliation:
None
Rank:
"Widow of the South"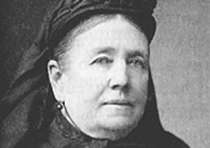 Carrie Elizabeth Winder married John McGavock of Carnton Plantation in Franklin, Tennessee in December 1848. They had five children during the subsequent years, three of whom died at young ages.

Beginning at 4 p.m. on November 30, 1864, Carnton was witness to one of the bloodiest battles of the entire Civil War. Everything the McGavock family ever knew was forever changed. The Confederate Army of Tennessee furiously assaulted the Federal army entrenched along the southern edge of Franklin. The resulting battle is believed to be the bloodiest five hours of the Civil War. The Battle of Franklin lasted barely five hours and led to some 9,500 soldiers being killed, wounded, captured, or counted as missing. Carnton served as the largest field hospital in the area for hundreds of wounded and dying Confederate soldiers. Carrie and her family helped nurse many of the wounded.

In early 1866, John and Carrie McGavock designated two acres of land adjacent to their family cemetery as a final burial place for nearly 1,500 Confederate soldiers killed during the Battle of Franklin. Carrie managed and maintained the cemetery for the rest of her life, keeping an accurate log of every known man buried there. She was immortalized as the "Widow of the South" for her deeds.


Tools
Key Facts
Immortalized in Robert Hick's book, The Widow of the South.
Cared for hundreds of wounded soldiers in the Battle of Franklin and maintained a cemetery on Carnton land for the rest of her life.
Related