James Longstreet
Affiliation:
Confederacy
Unit:
Army of Tennessee
Rank:
Confederate General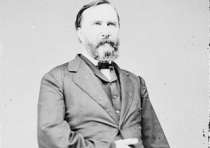 One of the most controversial Confederate generals, Longstreet was born in Edgefield District, South Carolina, January 8, 1821, and reared in Georgia. After graduating from West Point class in 1842, he fought in Mexico, where he won two brevets for gallantry. He resigned his commission in the paymaster's department to join the Confederacy.



Longstreet competently commanded a brigade at First Manassas and a division at Seven Pines and in the Seven Days campaign. His tactical abilities at Second Manassas and Sharpsburg won the admiration of General Robert E. Lee and led to his appointment in October 1862 as lieutenant general and commander of the First Corps, Army of Northern Virginia.



Yearning to gain independent command, Longstreet engineered the transfer of his corps to the Army of Tennessee in September 1863, perhaps with hopes of wresting command of that army away from the incompetent and unpopular Braxton Bragg. His troops played a key role at Chickamauga on September 19, but his participation in an abortive attempt to oust Bragg from command shortly thereafter led Bragg to detach Longstreet's troops from the army. Bragg sent Longstreet on a forlorn campaign to retake Knoxville, which had fallen to Major General Ambrose Burnside's Union forces in early September. After losing a footrace with Burnside to Knoxville, Longstreet laid siege to the city and attempted to starve the garrison into submission.



Longstreet ordered an assault on Fort Sanders, which he thought was a Federal weak link, on November 29, but was repulsed with heavy casualties. When he received news of Bragg's rout at Chattanooga and the approach of a Union relief column from the south, Longstreet lifted the 18-day siege and retreated into winter quarters in upper East Tennessee.



By April 1864 Longstreet was back in Virginia, where he participated in the final campaigns of Lee's army. Longstreet died January 2, 1904, at his home in Gainesville, Georgia.


Tools
Key Facts
Controversial general known for tactical skill.
Hoped to wrest command of the Army of Tennessee from Bragg.
Played key roles at Chickamauga and Knoxville.
Related