Joseph Wheeler
Affiliation:
Confederacy
Unit:
The Army of Tennessee
Rank:
Major General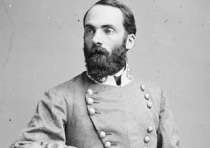 Born in Augusta, Georgia, on September 10, 1836, Joseph Wheeler graduated from the U.S. Military Academy in 1859. General Braxton Bragg gave Wheeler command of the Army of Tennessee's cavalry in the fall of 1862. His first flamboyant raid was a ride around the Union army on the eve of the battle of Stones River at Murfreesboro in December 1862. In late January 1863 Wheeler struck out to recapture Fort Donelson on the Cumberland River, but his leadership in that unsuccessful expedition earned him the everlasting enmity of Tennessee's most effective cavalry general, Nathan Bedford Forrest.



Wheeler commanded the cavalry during the Tullahoma Campaign in the summer of 1863, where his failure to effectively deploy his troops contributed to the Confederate loss. He served well in the Confederate victory at Chickamauga before making his most famous raid in October--an attempt to disrupt the fragile Federal supply route into besieged Chattanooga. Wheeler's troops destroyed a large wagon train moving through the Sequatchie Valley but in the end had little to show for their efforts.



Wheeler was promoted to lieutenant general and commanded the Army of Tennessee's cavalry during William T. Sherman's campaign for Atlanta in the summer of 1864. His last raid came late in the Atlanta campaign, when he led men to north Georgia to destroy the Chattanooga rail line that supplied Sherman's troops. After inflicting only minor damage, he rode off toward Knoxville before moving into Middle Tennessee and Alabama.



Wheeler was not present for the battles of Franklin and Nashville in the fall of 1864; instead, he was assigned to harass Sherman on his march through Georgia and the Carolinas. Wheeler was in North Carolina when the Civil War ended in April 1865.



After the war, Wheeler lived in New Orleans for four years before moving to north Alabama, where he served eight terms in Congress (1881-82 and 1885-1900). He was commissioned major general in the U.S. Army during the Spanish-American War and served in Cuba and the Philippines. He retired from the army in 1900 and died in New York in 1906.
Tools
Key Facts
Served well at is Murfreesboro and Chickamauga; failure at Fort Donelson and Tullahoma earned the dislike of more effective Nathan Bedford Forrest.
Elected to eight terms in Congress, then served in Cuba during the Spanish-American War.
Related