Battle of Nashville
Location:
Granny White Pike and Battlefield Dr.
Nashville, TN 37204
Phone:
(615) 532-1550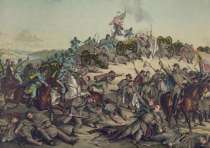 The battle of Nashville continued the destruction of the Confederate Army of Tennessee that began with devastating casualties at Franklin. Hood made two fatal decisions that doomed his army.
The battle of Nashville, fought December 15-16, 1864, continued the destruction of the Confederate Army of Tennessee that had begun with devastating casualties at Franklin. After that engagement, army commander John Bell Hood moved his troops north from Franklin in early December and established a five-mile defense line. Hood planned to bring his army to the city's outskirts and await an attack from the Federals, hoping to counterattack if the enemy left an opening. There were serious flaws in this position, since it did not come close to covering all major roads leading from the city. In spite of their efforts to entrench and strengthen their defenses, the Confederates were vulnerable on both flanks.

Hood's adversary, Gen. George Thomas, enjoyed several compelling advantages. His Federals occupied extraordinarily strong works, since Nashville was one of the most heavily fortified cities in America. Although it had taken time for Thomas to amass his force, by mid-December he had more than 54,000 men on hand at Nashville, well over twice Hood's numbers.

In his ill-conceived battle against Union forces in Nashville, Hood lost some 6,000 men, many of them captured when they failed to make their escape from the battlefield. Union casualties were just over 3,000. Yet Federal success at Nashville was aided tremendously by the earlier action at Franklin, which had demoralized many Southerners and decimated Hood's best combat units. Psychologically devastated by the losses at Franklin and unwilling to be sacrificed at Nashville, many of Hood's most courageous veterans broke and fled there.

The result of Hood's Tennessee campaign, which began with such heady optimism in the fall, was the near-total disintegration of his army. The remnants of the army finally halted at Tupelo, Mississippi, but large numbers of men deserted along the way and others did so shortly after reaching Mississippi. Hood asked to be relieved on January 13, and Richmond authorities accepted the request. Two fatal decisions by Hood, to launch a frontal assault at Franklin and to await Thomas at Nashville, doomed his army in the campaign.
Tools
Key Facts
Hood established a five-mile defense line that did not cover all major roads from Nashville and left the Confederates vulnerable to superior numbers on both flanks.
Hood lost 6,000 men to the Union's 3,000; more deserted on the retreat.
Related