George H. Thomas
Affiliation:
Union
Unit:
U.S. Army of the Cumberland
Rank:
General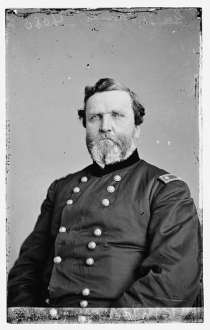 Union General George H. Thomas played a pivotal role in several significant Tennessee Civil War battles. Born July 31, 1816, in Southampton County, Virginia, he received an appointment to the U.S. Military Academy at West Point, where he graduated with distinction and became an instructor in artillery and cavalry.



In 1861 Thomas remained loyal to his country, but due to his Virginia roots, Federal officers were wary of giving him command. However, the methodical but resolute Thomas proved he could fight and win at the battle of Mill Springs, Kentucky, in January 1862, when his command defeated a Confederate force led by General Felix Zollicoffer. Mill Springs was the first significant Union victory in the western theater of the war.



In the Kentucky campaign of 1862, Thomas again served with distinction at the battle of Perryville. He was offered the command of his superior, General Don Carlos Buell, but Thomas demurred, accepting instead a subordinate position in the U.S. Army of the Cumberland under General William S. Rosecrans. At the end of the year, at the battle of Stones River near Murfreesboro, Thomas's soldiers survived heavy casualties to hold the Union center at a place known as the "Round Forest" and to maintain control of the vital Nashville and Chattanooga Railroad line.



His reputation as a gifted field commander was cinched during the battle of Chickamauga in September 1863 when he managed to hold back Confederate forces while the rest of the Army of the Cumberland retreated back to Chattanooga, earning him the nickname "Rock of Chickamauga."



After the Union's successful Atlanta campaign of 1864, General William T. Sherman in late October 1864 detached portions of Thomas's army and ordered the soldiers to return to Tennessee to defend the Union rear and the capital city of Nashville from a possible invasion from Confederate General John Bell Hood's Army of Tennessee. Their defense was successful, and the war was virtually over.



After the Civil War, General Thomas remained in the military and was commander of the Military Division of the Pacific when he died in San Francisco on March 28, 1870.
Tools
Key Facts
Won the first major Union victory in the Western Theater.
Held the Union center at Stones River, held back Confederate forces at Chickamauga.
Nicknamed "The Rock of Chickamauga."
Related