Battle of Nashville Driving Tour at Shy's Hill
Location:
209 10th Avenue
Nashville, TN 37203
Phone:
(615) 862-7970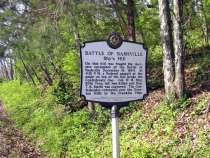 The Battle of Nashville, fought on both land and water, was one of the final large-scale engagements of the Civil War. The Confederacy's last offensive action, on Dec. 15-16, 1864, finished the Army of Tennessee as an effective fighting force.
The driving tour includes the main points of the Union defenses of Nashville and the Confederate lines of battle. Sites along the tour include: Shy's Hill, where Union troops finally broke through; Fort Negley; Confederate Redoubts #1 and 3; Granbury's Lunette, where Union troops were hindered by heavy fog and forced to retreat with heavy losses; and Travellers Rest, headquarters of Gen. John Bell Hood.

A downloadable brochure is available at http://www.bonps.org/original/images/brochure02.pdf

Brochures are available at the Nashville Chamber of Commerce and the Metro Historical Commission, Mon.-Fri. and the Nashville Visitors Center, daily. Admission is free.

The memorial on the site honors the troops of both sides who fought on and around Shy's Hill. It consists of three flags, an American flag, a Confederate national flag, and a Minnesota state flag (honoring the four regiments of Minnesotans who were instrumental in capturing the hill).
Tools
Key Facts
At Shy's Hill, Federal troops finally broke the Confederate line on the left flank, resulting in a massive Rebel retreat and a decisive Union victory.
Large numbers of African-American troops fought for the Union.
Two Union sailors received the Medal
Related