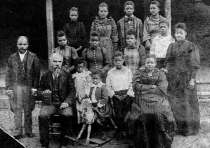 A. N. C. Williams, prominent African American merchant and community leader in Williamson County, was born into slavery in Spring Hill, Tennessee, in 1844. At age six, he was sold to D. R. Crutcher and moved to Franklin, Tennessee, where he lived the remainder of his life. Williams's life, spanning decades that saw profound changes for African Americans in civil rights, racial attitudes, and opportunities, illustrates the challenges and achievements of a successful African American entrepreneur in a small southern town during and after Reconstruction.

During the Civil War, Williams had already built a prominent reputation as a trustworthy and respected citizen within Franklin's black and white communities. As a result, Union troops occupying Franklin during the Civil War, believing Williams to be a Southern collaborator, once detained him for questioning as a potential sniper suspect. Finding no evidence to support these claims, Williams was soon released.

Upon emancipation in 1863, Williams opened the first African American business in downtown Franklin, operating a shoe repair business on the square. This first site was destroyed during the Battle of Franklin in 1864. Undaunted, Williams leased a site on Main Street and continued his operation.

After the Civil War, Williams joined Franklin's Colored League. On July 6, 1867, the evening of the infamous Franklin Riot, the league marched through Franklin's square to protest speeches by two congressional candidates. Williams attempted to quell violence by communicating to white Conservatives the league's desire to march peaceably. Although events unfortunately escalated and shots were fired on both sides, Williams proved instrumental in calming tensions between blacks and whites and working for a peaceable solution to the conflict.

Over the next sixty years, Williams gained the trust of both black and white residents and developed several businesses and contributed significantly to the Natchez Street neighborhood where he lived.

Upon Williams's death in 1930, the town of Franklin mourned the passing of a beloved, influential, and respected leader within the community. Mourners from black and white communities turned out in great numbers to pay their respects. Williams is buried in Franklin's National Register-listed Toussaint L'Overture Cemetery.
Tools
Key Facts
Williams was born into slavery in Spring Hill and sold, at age six, to a Franklin family.
Williams was so respected among both black and white communities that Union troops once suspected him of being a spy.
Related