Christopher Alexander Haun
Affiliation:
Union
Unit:
Company F 2nd Tennessee Voluntary Infantry Regiment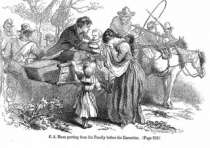 Christopher Alexander Haun, one of southern Appalachia's most significant antebellum potters, was also one of the famous Greene County "bridgeburners" of the early Civil War era in Tennessee.

Haun, a staunch Unionist, participated in the destruction of a railroad bridge at Lick Creek in Greene County, an act for which local Confederate officials executed him in late 1861.

Haun was one of several local craftsmen who lived in the "Pottertown" community of Greene County at the time of the Civil War. His work was distinguished by his method for making multicolored pottery, and his earthenware jars are prized items of Tennessee material culture.

In the fall of 1861, Haun joined several of his neighbors in a daring plan to cripple the Confederate railroad system. The plan to burn Confederate bridges originated with the Rev. William Blount Carter, a local Unionist minister. Carter approached General George McClellan, and McClellan immediately set up a meeting with President Abraham Lincoln. The president gave his blessing to the plan and promised that a Union regiment would protect the families of the bridge burners and compensate the participants.

With the help of Union Captains David Fry and William Cross, Carter finalized a plan to burn all major railroad bridges in East Tennessee from Georgia to Virginia in one night. On November 8, 1861, many men, including Alex Haun, arrived at Jacob Harmon's home and were immediately sworn into the Company F 2nd Tennessee Voluntary Infantry Regiment of the United States Army.

Haun, with 40 to 60 others, went to the edge of Harmon's farm where the railroad bridge crossed Lick Creek. They encountered Confederate soldiers camping under the bridge and immediately took the Confederates into custody.

After destroying the bridge, they released the Confederates, a decision they would soon regret. In the following weeks, the Confederates captured five men associated with the bridge burning, including Alex Haun, and hanged them. Haun is buried near the site of the Lick Creek bridge on Pottertown Road in Greene County.
Tools
Key Facts
Haun was a renowned potter, known for his multicolored pieces.
A staunch Unionist, he was hanged for his participation in the plan to burn Confederate railroad bridges.
Related