William G. "Parson" Brownlow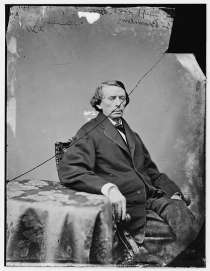 Parson Brownlow, minister, journalist and governor, influenced Tennessee politics and government. Born in Wythe County, Virginia, he joined the traveling ministry of the Methodist Church in 1826, riding circuits in southern Appalachia.

In 1838, he became editor/owner of an Elizabethton newspaper popularly known as Brownlow's Whig. He moved his paper to Jonesborough and then to Knoxville in 1849.

Brownlow, boasting that he had never been neutral on any issue, was in the eye of many political controversies; most significantly, he rejected secession and the Confederacy.

The Parson and Andrew Johnson led East Tennesseans into rejecting both 1861 votes for secession. The first referendum failed, but the second passed with strong support in Middle and West Tennessee.

After Tennessee seceded, Brownlow continued castigating the Confederacy. Confederate authorities took no action at first, but later suppressed his paper. The Parson then fled to safety in the Smoky Mountains.

He was later arrested and jailed in Knoxville, charged with treason. While there he observed Union sympathizers imprisoned on the slightest pretext and witnessed the executions of men accused of burning railroad bridges. Eventually he was expelled from the Confederacy.

Brownlow launched a speaking tour to major cities of the North. The tales of his jail experiences made him an instant celebrity. Proceeds from his tour and book royalties generated sufficient funds to reestablish his paper in 1863. With the Whig again in print, the Parson resumed lambasting Confederates.

Tennessee Unionists elected Brownlow governor in March 1865, and he served two consecutive terms. By influencing the state legislature to ratify the Fourteenth Amendment, he swayed Congress to restore Tennessee to the Union. As a result, Tennessee was saved from the political reconstruction experienced by other Confederate states.

The war destroyed many public facilities in Tennessee. Brownlow led the state in backing government bonds to build railroads and other public improvements. This action indebted Tennessee for many years.

Elected U.S. senator in 1869, he served one term before returning to Knoxville. He died on April 28, 1877.
Tools
Key Facts
A staunch Unionist editor, he was jailed for treason, then expelled from the Confederacy. A speaking tour of the north made him a celebrity.
He served two terms as governor, bringing Tennessee back into the Union and backing bonds for rebuilding.
Related