Albert Sidney Johnston
Affiliation:
Confederacy
Unit:
Commander of Confederate Forces in Western Theater
Rank:
General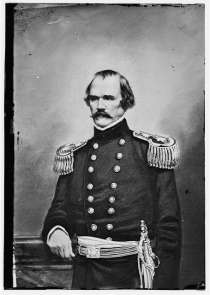 The first commander of Confederate forces in the Western Theater, Albert Sidney Johnston was born at Washington, Kentucky, on February 2, 1803. Johnston graduated from the United States Military Academy in 1826. After serving in several western outposts, Johnston resigned his commission in 1834 to join the revolutionary army of Texas. After the admission of Texas to the Union, Johnston rejoined the U.S. Army in 1849 as colonel of the newly formed Second Cavalry.

By 1861 Johnston commanded the Department of the Pacific, but when Texas seceded from the Union, he resigned his commission. Offering his services to the president of the new Confederate States, Johnston received an appointment as a full general in August 1861 in charge of defending a 300-mile front stretching from the Mississippi River across Tennessee and Kentucky to the Cumberland Gap with only 30,000 men. Everyone believed him capable.

However, in the spring of 1862, Johnston's image as the most capable officer in the Confederacy collapsed. When he moved to strengthen the garrison at Bowling Green, Kentucky, General Ulysses S. Grant took advantage of the weak defenses on the western rivers and captured Forts Henry and Donelson. As the Confederate forces retreated south, the state capital of Tennessee fell to the Union army.

Resolving to reclaim the lost territory, Johnston gathered a strong force at Corinth, Mississippi. He planned to strike the Union forces under Grant encamped at Pittsburgh Landing, Tennessee, before they could be reinforced. The resulting battle of Shiloh, April 6 and 7, 1862, was the largest engagement of the Civil War fought to date.

Initially successful, Johnston's forces drove the Federal soldiers back. At that time, Johnston decided personally to lead his regiment in a charge against what came to be known as the Hornets' Nest. During the attack, however, a minie ball entered Johnston's leg just above his boot and severed an artery. He died a short time later. Command of the Confederate forces fell to General P. G. T. Beauregard. The following day, after reinforcements arrived from Nashville, the Federal troops drove the Confederates from the field.
Tools
Key Facts
West point graduate and first commander of Confederate forces in the Western Theater.
Killed at the Battle of Shiloh.
Related