Gideon Johnson Pillow
Affiliation:
Confederacy
Rank:
General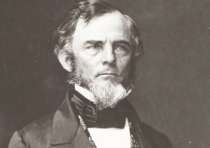 Gideon J. Pillow, politician and general, was born in Williamson County, Tennessee. He graduated from the University of Nashville in 1827 and became an attorney in 1830.



"Clifton Place," his estate near Columbia, begun in 1838 and remodeled in 1852, was not only one of the grandest residences in the state, but also a progressive, modern farming operation utilizing the most advanced methods in horticulture and husbandry. Pillow was a respected authority on farm economics and urged the diversification of southern agriculture and the increased mechanization of the southern economy.



In the 1850s, Pillow maintained a Jacksonian stance in favor of continued Union with safeguards for slavery, and upon Lincoln's election he urged a convention of slave states, though he still decried outright secession. In May 1861, Governor Harris named Pillow as the senior major general of the Provisional Army of Tennessee, and he threw his great energy and administrative ability into the task of raising, training, and motivating that force.



In February 1862, he was partly responsible for the disastrous surrender of Fort Donelson, and for the rest of his life, Pillow would carry the taint of a failure made worse by the abandonment of his men. Unable to procure a permanent command, he led a brigade of Tennesseans on the last day of the battle of Stones River. For the rest of that year and into 1864 he was head of the Volunteer and Conscript Bureau for most of the Deep South.



In 1864 he once again took a field command, but his one major initiative, against Sherman's line of communications at Lafayette, Georgia, in June, was a fiasco. He spent the remainder of the war on recruiting duty.



One of the wealthiest men in the state in 1860, Pillow had spent much of his fortune in the war effort and seen some of his properties confiscated or otherwise encumbered by the Federal authorities. After the war, he went into a law partnership in Memphis. He was a victim of the last great visitation of yellow fever to Memphis in 1878 and is buried in Elmwood Cemetery.


Tools
Key Facts
One of Tennessee's wealthiest men, an expert in horticulture and farm economics.
Military reputation tainted by disasters at Fort Pillow and in Georgia.
Related