Leonidas Polk
Affiliation:
Confederacy
Unit:
Department of Alabama, Mississippi, and East Louisiana
Rank:
General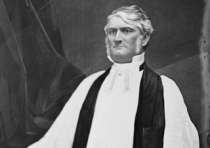 Episcopal bishop and Confederate General Leonidas Polk was born in Raleigh, North Carolina, April 10, 1806. He briefly attended the University of North Carolina before entering the U.S. Military Academy.



He became an Episcopalian during his senior year and resigned his commission six months after graduation to enter the ministry. He was ordained a deacon in 1830.



Polk married Frances Ann Devereux in May 1830 and immediately was posted as assistant to Bishop Richard Channing Moore of Monumental Church of Richmond. In 1832, he moved his family to Tennessee, where he received a portion of the Polk lands near Mount Pleasant and built a home called "Ashwood."



When the Civil War began, Confederate President Jefferson Davis, friend and former West Point classmate, encouraged Polk to accept a commission in the Confederate army, and Polk eventually agreed. He was commissioned major general on June 25, 1861. In the early months of the conflict, he commanded the vast territory of Department No. 2, which included the Mississippi River defenses from the Red River to Paducah, Kentucky. He also organized the Army of the Mississippi, later a part of the Army of Tennessee.



Polk commanded the Confederate right at Shiloh, leading four charges personally. At Perryville, he was second-in-command to General Braxton Bragg, who criticized him for not attacking the Union forces when ordered. Polk commanded the right flank at the battle of Stones River, and his corps took the pivotal Round Forest twice before Bragg's army withdrew. At Chickamauga Bragg relieved Polk of command and ordered him court-martialed for disobeying orders. After careful investigation, Jefferson Davis dismissed the charges.



Polk took command of the Department of Alabama, Mississippi, and East Louisiana in December 1863 with headquarters in Meridian, Mississippi.



General Joseph E. Johnston, who replaced Bragg following the battle of Chickamauga, ordered Polk's forces to assist him in the Atlanta campaign. While examining the Federal position in company with Generals Johnston and Hardee, Polk was instantly killed by a shot to the chest at Pine Mountain near Marietta, Georgia, on June 14, 1864.
Tools
Key Facts
West Point classmate Jefferson Davis persuaded Polk to return to military life.
Personally led four charges at Shiloh; took pivotal ground at Stones River, but clashed with Bragg.
Killed at Pine Mountain, Ga., while with Joseph Johnston.
Related