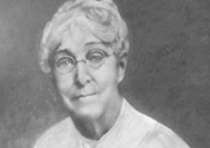 Fannie Battle, Confederate spy and social reformer, was born in the Cane Ridge community on her family's plantation. She was educated at the Nashville Female Academy. Her father and brothers enlisted in the Confederate army and fought in the battles of Fishing Creek, Fort Donelson, and Shiloh. Two brothers died at Shiloh, and her father, Joel Battle, was taken prisoner.

During the Union occupation of Nashville in March 1862, Battle and a sister-in-law joined a group of scouts and spies who gathered information about Federal forces in Nashville. Many Confederate spies were young women who dated Union soldiers to obtain information about troop movements and the strength of Federal defenses. Battle obtained a Federal pass for entering the city without difficulty.

Caught smuggling documents, she was imprisoned in the Tennessee State Penitentiary before being transferred to the Old Capitol Prison in Washington, D.C.. Battle returned to Nashville after the war and taught at Howard School and various Nashville schools from 1870 to 1886.

In December 1881, after flooding of the Cumberland River, Battle persuaded Nashville leaders to organize a relief society for the victims. The Nashville Relief Society dispensed food, clothing and coal to more than 1,000 people left homeless by the flood. A Ladies Relief Society formed the next year, and Battle was its treasurer.

After meeting the needs of flood victims, Battle and leaders of the society organized the United Charities. When United Charities faced difficulties raising money for a competent secretary's salary for the organization, Battle accepted the post. She served as secretary-general of United Charities until her death.

As secretary Battle became aware of many Nashville children who were neglected while their parents worked. Battle rented a room in a North Nashville neighborhood near the cotton mills that employed women mill workers and established a daycare program. The program grew quickly, and Battle recruited physicians and other professionals to donate services to the children. The program became the Addison Avenue Day Home, Nashville's first daycare. Fannie Battle died in 1924 and is buried in Nashville's Mt. Olivet Cemetery.
Tools
Key Facts
Spied on troops, smuggled documents in Nashville
Imprisoned in Tennessee and Washington D.C.
Became teacher, social reformer after the war, organizing relief for flood victims, starting Nashville's first daycare center for mill workers' children.
Related