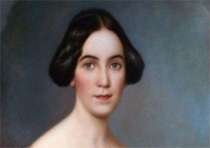 One of the wealthiest women of the antebellum South, Adelicia Acklen was born March 15, 1817, the daughter of Oliver Bliss Hayes, a Nashville lawyer, judge, minister, land speculator, and cousin to President Rutherford B. Hayes. At 22, she married Isaac Franklin, a wealthy cotton planter and slave trader, 28 years her senior. They had four children, none of whom survived childhood. In 1846 Franklin died, leaving her an inheritance valued at approximately $1 million that included Louisiana cotton plantations, a 2,000-acre farm in Middle Tennessee and 750 slaves.

In 1849 Adelicia married Colonel Joseph A. S. Acklen, a lawyer from Alabama, who signed a prenuptial contract giving his wife control of all her businesses, property, and assets. The couple began construction of Belmont, a large summer villa, now maintained as a house museum. The Acklens lived a sumptuous lifestyle, traveling between Belmont and their Louisiana plantations. The couple had six children, two of whom died young. Acklen, a superb businessman, had tripled his wife's fortune by 1860.

After Acklen's death, Adelicia faced financial ruin when the Confederate army threatened to burn 2,800 bales of her cotton to keep it from the Union army. Acklen boldly rushed to Louisiana and secretly negotiated with both sides. She secured Confederate promises not to burn her cotton, while the Union army agreed to help move the cotton to New Orleans. Acklen sold her cotton to the Rothschilds of London for a reported $960,000 in gold. In 1865 Acklen and her children left for Europe to retrieve the money made from this sale.

In 1867 Acklen married Dr. William Archer Cheatham, a Nashville physician. Cheatham also signed a prenuptial agreement. The couple was married 20 years, living mostly at Belmont. In 1886 Acklen sold Belmont, left Dr. Cheatham and moved to Washington, D.C., with three of her children. The cause of her separation from Cheatham is not known. Acklen died on May 4, 1887, in New York City. She is buried in Nashville's Mt. Olivet Cemetery in a family mausoleum with her first two husbands and nine of her ten children.
Tools
Key Facts
Owner of Nashville's Belmont Mansion, one of the South's wealthiest women
Secretly negotiated with both the Union and Confederacy to save her cotton
Ran the Union blockade to sell her cotton to London
Required prenuptial agreements with husbands
Related