Loreta Janeta Velazquez
Affiliation:
Confederacy
Rank:
Colonel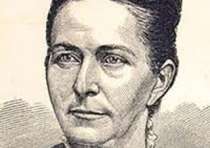 Confederate soldier and spy Loreta Janeta Velazquez was born in Cuba, raised in New Orleans, and lived in Memphis at various times during the Civil War. As a young girl, Velazquez developed an admiration for Joan of Arc and expressed a desire to emulate her deeds and make a name for herself as a woman of courage who would fight for a great cause.

When the Civil War broke out, Velazquez disguised herself as a man, adopted the name of Col. Harry T. Buford, and raised a cavalry company of her own in order to be near her fiancé. In keeping with her disguise, Velazquez dressed in male clothing and donned a mustache and beard. She fought for the Confederacy in numerous battles in Tennessee and Virginia, including Bull Run and Shiloh. She also served as a special agent and a counterspy.

After the war, Velazquez wrote a colorful memoir about her Civil War experiences to support herself and a young son. Some denounced the 1876 publication as a fraud. No record remains of her life after about 1880, or of the circumstances of her death in 1897.
Tools
Key Facts
Disguised herself as a man, led a cavalry company under the name Col. Harry T. Buford.
Served as special agent and spy.
Related