Andrew Johnson National Historic Site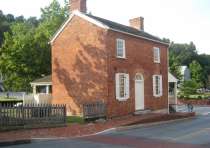 Andrew Johnson served as mayor of Greeneville, military governor of Tennessee during the Civil War, and became Lincoln's vice president and, upon Lincoln's assassination, President.
Having lost his father at the age of three, Andrew Johnson grew up in poverty and was apprenticed to a tailor at the age of ten. He moved to Greeneville, Tennessee in 1826, where he eventually started a family, opened his own tailor shop, and served as mayor. Politically, Johnson went on to serve in the state Senate, the US House of Representatives, as governor of Tennessee, and in the US Senate. With the fall of Confederate Forts Donelson and Henry in February, 1862, President Abraham Lincoln appointed Johnson as military governor of Tennessee with the directive of bringing the state back into the Union. Arriving in Nashville in March, 1862, Johnson served in this capacity for the remainder of the Civil War, though Federal control of the Middle Tennessee area was under constant threat. Johnson proved to be a pugnacious character, often driving away even staunch Tennessee Unionists with his anti-slavery views and loyalty oath requirements that surpassed those set forth by Lincoln. Johnson ran as Lincoln's vice presidential candidate on the 1864 ticket and served the role until Lincoln's assassination on April 14, 1865. Sworn in as the seventeenth President of the United States the following morning, Johnson was tasked with guiding the country through the contentious Reconstruction Era. Johnson often fought openly with Congress and vetoed all of their major Reconstruction legislation, resulting in his impeachment. Though he was eventually found innocent of the charges by one vote, the rest of Johnson's presidency was unproductive. The Andrew Johnson National Historic Site, in Greeneville, Tennessee, has many of the buildings relating to Johnson's life. The visitor center provides brochures and an orientation film and houses the presidential museum, Johnson's original tailor shop, and the Eastern National Bookstore. Near the visitor center is his early home, his homestead, his burial site, a replica of his birthplace, and a statue.
Tools
Key Facts
The site retains many of the buildings relating to his life, including his tailor shop and burial site.
Related