Andrew Johnson
Affiliation:
Union
Rank:
President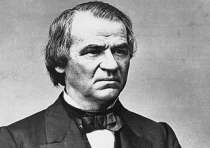 Born in a log cabin on December 29, 1808, in Raleigh, North Carolina, Andrew Johnson would rise from humble beginnings to eventually become the 17th president of the United States.

He moved to Greeneville, Tennessee in September 1826. There, Johnson found work in a tailor shop and married Eliza McCardle. Two years later Johnson was chosen alderman, and in 1834 he became Greeneville's mayor. In 1835, Johnson successfully ran for a seat in the state legislature; he served three terms, one in the state Senate, before seeking new challenges in the U.S. House of Representatives, where he served for ten years, 1843-53.

Johnson made a successful race for governor in 1853 and again in 1855. Although Johnson accomplished little as governor he did gain extensive public exposure, which enhanced his future career. In the fall of 1857, the legislature chose Johnson as U.S. senator.

By the time Lincoln was elected Johnson had declared himself as a Southern Unionist and left Tennessee for Washington. After the federals gained control of Nashville, President Lincoln sent Johnson to Tennessee as the military governor for the purpose of restoring civil government and returning the state to the Union.

In the 1864 presidential election, Johnson was on the ticket with Lincoln and, six weeks after being sworn in as vice-president, on the morning following Lincoln's assassination, Johnson was sworn in as president. While Johnson attempted to impose Reconstruction provisions, he spent a large amount of time battling with Congress for power. The House voted to impeach Johnson in 1868, but the Senate acquitted him of all charges. His power was greatly diminished by this point, however, and he was not even nominated for the next presidential election. The victory went overwhelmingly to the war hero U.S. Grant.

After leaving the presidency, Johnson returned to Tennessee and ran several unsuccessful campaigns before finally being elected to the U.S. Senate for his final term of office. After his tenure expired, he returned to Greeneville, where he suffered a stroke only four months later and died on July 31. He is buried in Greeneville.
Tools
Key Facts
A Tennessee senator, Johnson left for Washington after the state seceded.
Appointed military governor of Tennessee after Nashville's fall.
Elected Lincoln's vice president in 1864, became president after Lincoln's assassination.
Related