Dickson-Williams Mansion
Location:
108 N. Irish St.
Greeneville, TN 37743
Phone:
(423) 787-0500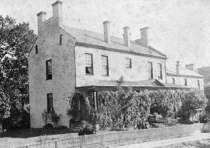 This architecturally significant home was truly a house divided; both family and illustrious visitors represented both sides of the conflict.
This architecturally significant Federal-style mansion was the home of Catharine Dickson Williams and Dr. Alexander Williams. Catharine was a famous Greeneville hostess who counted Presidents Andrew Jackson, James K. Polk, and Andrew Johnson among the home's visitors. She and her husband also entertained such guests as John C. Calhoun, Henry Clay, Governor Wade Hampton and his daughters from South Carolina, and Davy Crockett. Dr. Williams died in 1852, but Catharine kept the home prominent until her death in 1870.

During the Civil War, it was truly a house divided. Her daughter, Elizabeth, married William Sneed, Esq., a former federal congressman. Her son, Williams Dickson, was a Captain on Confederate Gen. John Hunt Morgan's staff. Another son, Joseph Alexander, was a Union soldier, and a third son, Thomas Lanier, was a Confederate soldier.

Catharine would not say which side she favored; she entertained both Union and Confederate officers when they were in town. Union Gens. Ambrose Burnside and Alvan C. Gillem and Confederate Gens. James Longstreet and John Hunt Morgan each chose to make the mansion their headquarters when in Greeneville.

The federal raid on Greeneville on September 4, 1864, targeted the Dickson-Williams' house, trying to capture Morgan. He escaped from the house but was killed a few hundred yards away. Union Gen. Alvan C. Gillem returned Morgan's body to the Dickson-Williams House, where Catherine and Lucy Williams and their African American slaves, including Minerva Clem, dressed the body in a clean shirt and uniform and then laid it in a walnut coffin in the mansion's parlor.

"God only knows how I felt when I entered my room and saw that remained earthly of Gen. Morgan," recalled Lucy Williams. Soon local women, both Unionists and Confederates, filled the house and were "all deeply affected, and seeming, without distinction, to deplore his fall," said Confederate Capt. John H. McAfee.
Tools
Key Facts
Union Gens. Ambrose Burnside and Alvan C. Gillem and Confederate Gens. James Longstreet and John Hunt Morgan each used the home as their headquarters.
Morgan was killed after escaping the house in 1864.
Related