State Capitol Building
Location:
600 Charlotte Ave.
Nashville, TN 37243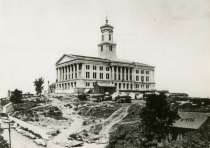 The Union army moved into Nashville, and James St. Clair Morton began building 4 forts, including fortifying the Capitol for the city's protection. Various types of business, from court cases to quartering officers, occurred at the Capitol.
The Confederates failed to fortify Nashville before the Union army moved into middle Tennessee, and surrendered the city to Gen. Don Carlos Buell [US] on February 25, 1862 to prevent its destruction. Under threat of Confederate attacks, Gen. Buell ordered Cpt. James St. Clair Morton to "select sites and give plans and instructions for redoubts to protect the city." Cpt. Morton began construction on four forts, including the fortification of the capitol building. After the addition of 14 pieces of artillery, earthworks, palisades, and barricades, Capitol Hill became known as Fort Andrew Johnson. Various types of business were conducted at the capitol during occupation. The building and the lawns served as a quartering facility for Union soldiers. It was also the location of offices for Union officers and the meeting place of courts-martial. Citizens could take the oath of allegiance at the capitol. Having been abandoned by Confederate-loyal justices, the Circuit Court was convened by John Catron on April 21, 1862 and began hearing civil cases. In addition, Gov. Andrew Johnson held the first in a series of meetings at the capitol in May 1862 for those in favor of restoring their state to the Union, starting the process of reconstruction in Tennessee. Andrew Johnson was given the task of returning Tennessee to the Union when President Lincoln appointed him military governor on March 3, 1862. Removing the mayor and nearly all the councilmen for their refusal to take the oath of allegiance, Gov. Johnson took control of the city's government during the peak of the Battle of Shiloh on April 7. The governor's many responsibilities included raising regiments and furnishing them with arms and ammunition, providing for the protection of public property and the enforcement of state laws, and nominating district marshals, attorneys, and a district judge.
Tools
Key Facts
With 14 pieces of artillery, earthworks, palisades, and barricades, Capitol Hill became known as Fort Andrew Johnson
Johnson, military governor of the state and future President, worked there to return Tennessee to the Union
Related