St. John's Episcopal Church- CWT
Location:
U.S. Route 43
Columbia, TN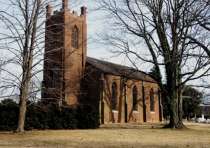 Built to serve the four Polk plantations, the church was used as a Confederate hospital and briefly occupied by Federal forces. Six Confederate generals were temporarily buried here after being killed at the Battle of Franklin.
Located between Columbia and Mount Pleasant, St. John's Episcopal Church is one of many sites associated with Gen. John Bell Hood's 1864 Tennessee Campaign. In 1839, Leonidas Polk drew up plans for a church to serve the four Polk plantations in the immediate area and donated a corner of his land for its construction. Using materials from the plantations, Polk family slaves assembled the church over the course of three years, completing it in 1842. During the war, the church was used as a Confederate hospital and was briefly occupied by Federal forces. It is most noted for its connection to the November 30, 1864 Battle of Franklin. In the days following those five hours of fierce fighting, Tennessee gathered her fallen soldiers and prepared them for burial. Of the estimated 1,750 Confederate dead, six were generals: Patrick Cleburne, John Adams, Otho Strahl, Hiram Granbury, John C. Carter, and States Rights Gist. Cleburne, Strahl, Granbury and Col. Robert B. Young were taken to Columbia, Tennessee and interred at the Rose Hill Cemetery on December 2. Charles Todd Quintard, chaplain and surgeon for the Confederate Army, was incensed by the burial locations, arguing they were too close in proximity to the graves of soldiers, both white and black, of the federal army. On December 3, Quintard had their remains disinterred and transported to St. John's for reburial. Their remains were again disinterred in the years following the war to be reinterred in their respective home states. The church appears today much as it did at the time of the war. The reredos, altar rail, and pulpit were all fabricated from a single cherry tree found on-site. Clay was dug on the lot in order to make bricks for the church's exterior walls. There are no sidewalks, parking lots, or paved driveways. Electricity and indoor plumbing were never added to the building. The indoor furnishings, hand-blown leaded glass windows, and the 1890 pipe organ are all original. Visitors can tour the churchyard and grounds, but the building itself is only open to the public on rare occasions.
Tools
Key Facts
Built to serve the four Polk plantations
Remains of several Confederate generals killed at Franklin were temporarily interred here.
Related