Battle of Brentwood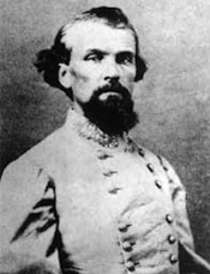 Nathan Bedford Forrest and his men disrupted communication and supply lines and inflicted 500-800 casualties on Union troops. The destruction of the railroad line was a significant loss to the Federals.
The village of Brentwood, between Nashville and Franklin on the Nashville & Decatur Railroad, was a strategic supply depot and source of food and livestock for the Union army in Middle Tennessee. This made it a target for Confederate cavalry forces with the mission of disrupting communication and supply lines. In March of 1863, Confederate Brig. Gen. Nathan B. Forrest directed two brigades of cavalry toward the Union garrison at Brentwood. This was one of several Confederate cavalry attacks against Union bases in Middle Tennessee that spring.

Union forces, commanded by Lt. Col. Edward Bloodgood, were in two locations: about 500 men were camped near the railroad depot in Brentwood and about 200 at a fortified stockade south of town, guarding the bridge over the Little Harpeth River.

On March 24, Brigadier General Forrest sent Col. James W. Starnes and the Second Brigade to ride ahead, disrupting communications by tearing up the railroad tracks and telegraph lines below town and cutting off any retreat. The rest of the troops, under Forrest and Brig. Gen. Frank Armstrong, crossed the river south of Brentwood on the morning of March 25. Forrest attacked the Union garrison near the depot. At first, Bloodgood refused Forrest's offer of surrender; after finding himself completely surrounded and shelled by artillery, he surrendered his troops in town, all within about half an hour of the initial Confederate attack.

Forrest then rode about two miles south of Brentwood to the Federal stockade, which was commanded by Captain Elisha Basset. Finding himself surrounded and shelled, Basset also surrendered, leaving the Confederates to burn the bridge over the Little Harpeth and head west with several captured supply wagons and as many as 800 Union prisoners.

The Confederates escaped with 59 casualties, while the Federals suffered from 500-800 losses. Union Maj. Gen. William S. Rosecrans was disgusted with the lack of fight on the part of the infantry, and Bloodgood was court-martialed for cowardice.
Tools
Key Facts
Brentwood, a strategic supply depot, was an important Confederate target.
Forrest forced the surrender of both Bloodgood and Basset.
Related