Nathan Bedford Forrest
Affiliation:
Confederacy
Unit:
Seventh Tennessee Cavalry
Rank:
General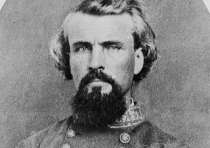 Nathan Bedford Forrest, the "wizard of the saddle," was one of the finest Confederate cavalry commanders and foremost military figures produced by the state of Tennessee. He was born in Chapel Hill, Tennessee, on July 13, 1821. Despite only six months of formal education, Forrest rose from semi-subsistence to planter status, acquiring substantial property and wealth, largely through the slave trade.



When Tennessee seceded, Forrest enlisted as a private in Captain Josiah White's Tennessee Mounted Rifles. Shortly afterward, Governor Isham G. Harris authorized him to raise a regiment of mounted troops. He established a reputation for boldness and daring during his many raids against federal troops and was awarded the position of brigadier general by December 1862.



Forrest participated in the retreat from Middle Tennessee led by General Braxton Bragg, but after Bragg's ineptitude following the victory at Chickamauga, Forrest transferred to Mississippi and formed a new cavalry unit around his war-tested veterans.



Promoted to major general on December 4, 1863, Forrest conducted raids against Federal communications and supply lines in Tennessee. He later joined General John Bell Hood in the disastrous Tennessee campaign of November and December 1864. His rearguard action during the Confederate retreat from Nashville undoubtedly saved the Army of Tennessee from extinction.



Returning to Mississippi, Forrest received a promotion to lieutenant general in February 1865, but surrendered his command a few months later at Gainesville, Alabama, in May 1865.



Forrest spent the years after the war struggling to regain the financial status he had enjoyed earlier. He undertook various business ventures, but was never able to reproduce his financial success.



Contrary to his expressed determination to remain quietly at home, Forrest soon embraced the Ku Klux Klan, assuming the role of the first Grand Wizard of the secret organization. Through it he sought to restore white conservative Democrats to power. Even so, he never completely adjusted to the new realities of the postwar South. In the 1870s Forrest's health began to fail, and he died in Memphis on October 29, 1877.
Tools
Key Facts
The controversial "Wizard of the Saddle" was considered the foremost of cavalry commanders, with a gift for strategy and tactics.
One of the first to understand "mobile warfare" that later became prevalent.
Related