William T. Sherman
Affiliation:
Union
Unit:
Army of the Tennessee
Rank:
Union General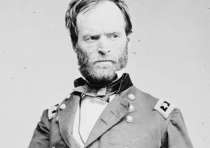 William Tecumseh Sherman graduated from the United State Military Academy in 1840. At the outbreak of the Civil War was made a colonel of the 13th United States Infantry.



Sherman first saw combat at the Battle of First Manassas. Although the Union army was defeated during the battle, President Abraham Lincoln was impressed by Sherman's performance and he was promoted to brigadier general. He was sent to Kentucky to begin the Union task of keeping the state from seceding, but later replaced by Don Carlos Buell. Sherman moved to St. Louis, where he served under Henry W. Halleck and completed logistical missions during the Union capture of Fort Donelson. During the battle of Shiloh, Sherman commanded a division, but was overrun during the battle by Confederates. Despite the incident, Sherman was promoted to major general.



At the battle of Chattanooga Sherman faced off against Confederates under Patrick Cleburne in the fierce contest at Missionary Ridge. After Ulysses S. Grant was promoted to commander of all the United States armies, Sherman was made commander of all troops in the Western Theater.



Commanding three armies, under George Henry Thomas, James B. McPherson, and John M. Schofield, he captured Atlanta on September 2, 1864. After the fall of Atlanta, Sherman left the forces under Thomas and Schofield to continue to harass the Confederate Army of Tennessee under John Bell Hood. Meanwhile, Sherman commenced his now-famous "March to the Sea," leaving in his wake a 40-60-mile-wide path of destruction through the heartland of Georgia.



Following his successful campaign through Georgia, Sherman turned his attentions northward and began marching through the Carolinas, chasing the Confederates under the command of Joseph E. Johnston. He eventually accepted the surrender of Johnston and all troops in Georgia, Florida, and the Carolinas on April 26, 1865, the largest surrender of Confederate troops during the war.



After the war, Sherman remained in the military and eventually rose to the rank of full general, serving as general-in-chief of the army from 1869 to 1883. He died in 1891.


Tools
Key Facts
Fought at Shiloh, Collierville, Chattanooga; military governor of Memphis.
Became commander of all Union troops in Western Theater in 1864.
Captured Atlanta and began "March to the Sea," using "hard war" tactics.
General-in-chief of the army 1869-1
Related