Friendsville, Tennessee: A Stop on the Underground Railroad
Location:
105 Homecoming Circle
Friendsville, TN 37737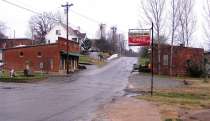 Friendsville Quakers Wilson J. Hackney and his wife stocked a cave near their house as a hiding place on the Underground Railroad. They helped more than 2,000 people make the journey north.
In 1796, the same year Tennessee gained statehood, four men belonging to the Religious Society of Friends (Quakers) joined to establish Friendsville in Blount County on land owned by fellow Friend Thomas Hackney. Following their religious doctrines, the East Tennessee Friends strictly adhered to their anti-slavery, pacifist beliefs. As such, many of their communities became recognized stops along the Underground Railroad, aiding in piloting Unionists and escaped slaves to the north. Remaining ever neutral in the war that forced many to choose sides, the Friends aided all they could regardless of wartime allegiances. Despite having their food, livestock, and other belongings confiscated by foraging parties, they provided help to any soldier or civilian in need. The East Tennessee Quaker communities, motivated by religious teachings that opposed slavery, played a pivotal role in the success of the Underground Railroad through that portion of the state. At Friendsville, Wilson J. Hackney and his wife used a cave near their house to help those wishing to escape slavery or Confederate conscription. Beginning in 1862, the Hackneys kept the cave, which could accommodate up to 50 people, well stocked with supplies, food, and bedding for the weary travelers. Fresh water was obtained from a nearby spring. In this way, the Hackneys assisted over 2,000 people in their trip north. When East Tennessee came under Federal control, they offered Hackney a position on Gen. Ambrose Burnside's staff in Knoxville, which he humbly declined.
Tools
Key Facts
Beginning in 1862, the Hackneys stocked the cave with supplies and food for up to 50 people trying to escape slavery or Confederate conscription
Following their religion, East Tennessee Friends strictly adhered to anti-slavery, pacifist beliefs
Related