Rutherford County Courthouse
Location:
1 N. Public Square
Murfreesboro, TN 37130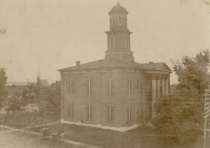 One of only 6 pre-war courthouses still standing, it served as a Union headquarters and prison, was captured by Nathan Bedford Forrest, and housed wounded from Stones River.
Constructed in 1859 under the leadership of architect James H. Yeaman, the Rutherford County Courthouse is one of only six pre-Civil War Tennessee courthouses still standing. Despite changes over the years, it retains much of its Civil War-era appearance. During the war, the courthouse was used as headquarters and, for a short time, as a prison. In July 1862, Federal occupiers arrested a number of local citizens, holding them prisoner in the courthouse either for aiding or spying. About six were convicted of espionage and executed by firing squad on July 13. That same day, under orders from Confederate command to attack the Federals and their supply store at Murfreesboro, then colonel Nathan Bedford Forrest blazed into to town in the early morning, catching the Federals by complete surprise. As Forrest's men approached the square, Federal soldiers "opened a heavy fire from the courthouse, and this stronghold was taken by storm." Under a barrage of small arms fire, the Confederates ran in long lines with each lead man wielding an axe. Each subsequent man picked up the axe when the man before him fell. They used the axes to chop down the doors and gain entry to the courthouse. A company of the 9th Michigan Infantry, stationed at the courthouse, sustained heavy losses. All Federal commanders at Murfreesboro surrendered to Forrest by late afternoon. Five months later, Federal and Confederate armies clashed in the fields along the Stones River. Many of the wounded and dying from the three-day battle were transported to town. Rutherford County resident Rebeccah Crosthwait made her way into town two days after the fighting began looking for her husband and sons, who were involved in the fight. She described the scene unfolding before her: "On entering the town what a sight met my eyes! Prisoners entering every street, ambulances bringing in the wounded, every place crowded with the dying, the Federal General, Sill, lying dead in the courthouse—killed Wednesday—Frank Crosthwaite's lifeless corpse stretched on a counter." Federal headquarters were re-established in the building, many men camping on the courthouse lawn.
Tools
Key Facts
Forrest's men used lines of ax-wielding soldiers to gain entry to the courthouse
Wounded and dying from Stones River came to the courthouse, including one of the Crosthwaite brothers
Related