Affair at Travisville
Location:
Highway 200
Byrdstown, TN 38549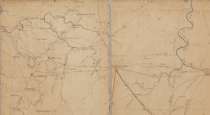 Site of the first skirmish in Tennessee, large numbers of Confederate troops gathered at Travisville. A Federal force surprised the Confederates there.
The Affair at Travisville, along U. S. Highway 127 in Pickett County, was the first Civil War engagement within the state of Tennessee. After Confederates established a camp at Travisville, roughly 13 miles from the Tennessee-Kentucky line, Col. William A. Hoskins [USA] ordered Capt. John A. Morrison to lead the 1st Kentucky Cavalry supported by the Hustonville Home Guard to "take them by surprise, order a surrender, which, should they refuse, to fire upon them." Upon arrival, the Federal force surprised the Confederate camps and demanded immediate surrender. The Confederates attempted to flee and, upon Col. Hoskins's orders, the Federal troops opened fire on the retreating men. During this brief gunfight, four Confederates were killed and four taken prisoner. The Federal attackers suffered at least one killed when James Ferguson, brother of notorious Confederate cavalry raider Champ Ferguson, shot and killed 21-year-old James M. Saufley of the 1st Kentucky Cavalry. Saufley was interred in the nearby Travisville Cemetery where his headstone stands today. Returning to the Federal camp, the men were considerably excited about their small victory. One soldier, Thomas Huddleston, proudly reported to Col. Hoskins that he had "fired several rounds, captured one soldier and two horses, and looked for more, but they were all gone." The four prisoners were forced to pledge "a solemn obligation to prove faithful to the United States Government" before being released. The attack didn't result in any lasting change, as Col. Hoskins reported to superiors on October 1 that Confederate troops were again gathering at the camp. The Confederates attempted a small retaliation by firing on the Federal pickets stationed three miles outside of the Federal camp. By October 29, the Confederates' numbers stationed in Travisville had swelled to about 4,400.
Tools
Key Facts
James Ferguson, brother of notorious raider Champ Ferguson, shot and killed a Federal soldier Union troops enjoyed a small victory, but Confederates returned, their number growing to about 4,400.
Related