Affair at Morristown
Location:
4990 Bethesda Road
Morristown, TN 37814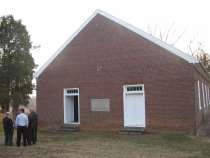 Union troops, hoping to retake the strategically important stronghold of Bull's Gap, "stampeded" Vaughn's Confederate troops and forced them back to Carter's Depot.
Following James Longstreet's departure from upper East Tennessee in April 1864, the war in that area settled into a new phase over control of the East Tennessee and Virginia Railroad, with cavalry of both sides raiding the railway between Knoxville and Bristol. In October, Confederate Brig. Gen. John C. Vaughan captured the railroad depot at Bull's Gap, an important strongpoint dominated by high ridges, before taking up position at Morristown. Union commanders in Knoxville, mindful of the strategic importance of Bull's Gap as a staging area for raids up the Great Valley, reacted quickly to the Confederate threat by sending Brig. Gen. Alvan C. Gillem to retake the stronghold and propel Vaughn out of East Tennessee. At 9 a. m. on October 28, Union cavalry encountered Confederate skirmishers about a mile west of Morristown and easily pushed them back. Cantering towards Morristown, the Union troopers discovered Vaughn's main army arrayed in two lines across open fields, with each flank anchored by dense woods. Following a short artillery bombardment, Gillem attacked Vaughn's center and right before sending cavalry against the Confederate left flank. After a successful charge that scattered the right flank of Vaughn's first line, the federal infantry regrouped before charging the second line about 800 yards behind the first position. At this point, Gillem ordered his cavalry to assault the Confederate left. The Union regiments lunged across an open meadow, slammed into the Confederate line, and scattered southern troops in every direction as the stunned defenders desperately tried to escape the onslaught. When Vaughan's artillery temporarily halted the Union attack, he ordered a retreat to Carter's Depot, later reporting to Breckinridge in a classic understatement, "I regret to say that my command was stampeded at Morristown this morning."
Tools
Key Facts
Cavalry of both sides raided rail lines between Knoxville and Bristol in a battle over control of the East Tennessee and Virginia Railroad
Confederate Gen. Vaughn captured the depot at Bull's Gap; reclaiming it became a Union goal.
Related