Battle of Collierville
Location:
125 N. Rowlett St.
Collierville, TN 38017
Phone:
(901) 853-1666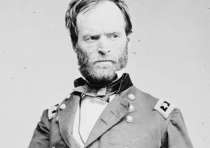 Confederate cavalry mounted a series of raids to disrupt Union supply lines and communications in 1863. On Oct. 11, Confederates chased a tiny Union garrison and captured supply wagons. The arrival of Gen. Sherman by train led to a full-blown fire fight.
The Civil War touched almost every place in Tennessee, and towns like Collierville, located on the historic Memphis-Charleston railroad line in Shelby County, have their own Civil War stories.

Conflict came to the doorsteps of Collierville residents once the Confederate cavalry began a concerted series of raids to disrupt Union supply lines and communications in the summer and fall of 1863.

On October 11, 1863, 3,000 Confederates, under the command of Brig. Gen. James R. Chalmers, swooped down on the tiny Union garrison protecting Collierville, chased the Federals into their fortifications and captured wagons of supplies.

Suddenly, in a stroke of luck for the Union army, a train carrying Maj. Gen. William T. Sherman and his headquarters staff--an estimated 260 men--pulled into the Collierville depot. Sherman quickly sent his troops from the train to push back the Confederate assault while he ordered local commander Col. D. C. Anthony to refuse General Chalmers's demand for surrender. Soon the Confederates were close enough to fire volleys into General Sherman's train, and Sherman ordered the burning of nearby buildings that potentially sheltered enemy shooters. The Confederates set fire to the rear of the train and even captured Sherman's favorite horse, Dolly, but they never gained control.

Union commanders ordered reinforcements to rush to the town. Once Chalmers learned of approaching Federal reinforcements from Germantown, he withdrew his troops to fight another day. Losses on both sides totaled over 200.

Despite the damage, General Sherman was back on track, headed to Corinth, in a day. But the encounter at Collierville taught the Union general that dependence on the railroad was unwise. He reported to General Grant that the Federal advance in the Deep South should rely instead on what could be taken from the countryside. The lesson Sherman learned at Collierville became part of his basic strategy along the "March to the Sea."
Tools
Key Facts
Gen. Sherman, trapped in his railroad car while directing the battle, learned not to depend on railroad transportation and amended his strategy in his "March to the Sea."
Related