Occupation of Cumberland Gap
Location:
330 Colwyn Street
Cumberland Gap, TN 37724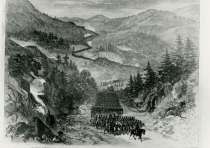 Confederate commander Edmund Kirby Smith, forced to choose which place to defend, concentrated on Chattanooga, burning bridges as he left Cumberland. Morgan's Union troops marched into Cumberland Gap unopposed, stopping only to widen the roads.
In June of 1862, the Confederate commander in East Tennessee, Maj. Gen. Edmund Kirby Smith, faced a difficult choice when Union troops mounted simultaneous threats at both ends of his department—at Chattanooga and Cumberland Gap, respectively—and Smith chose to concentrate his meager forces at Chattanooga, leaving Cumberland Gap undefended. He rushed all available troops to Chattanooga by rail to protect the Georgia supply lines and secure his potential line of retreat. On June 18, Brig. Gen. George Washington Morgan's Union troops marched unopposed into Cumberland Gap as Confederate units hurried away to the south, burning bridges over the Clinch River as they marched to the rail depot at Morristown. In 1861, Morgan had traveled west to assume command of the Seventh Division in Don Carlos Buell's Army of the Ohio and, in 1862, received orders to take Cumberland Gap, a task that brought him and his division to Cumberland Ford (today's Pineville, Kentucky), about ten miles north of the Gap in Kentucky. In order to advance, Morgan first had to clear a path to Big Creek Gap (near today's La Follette, Tennessee), about 25 miles southwest of Cumberland Gap through obstacles thrown up by the Confederates in the narrow valleys and defiles of the Cumberland Mountains. Morgan's chief problem was widening the roads enough to get his wagons and artillery through mountainous terrain. Having reached Big Creek Gap, the Union general began to advance his troops up Powell's Valley early on June 18. Learning from a Union sympathizer that Confederate troops had retreated from Cumberland Gap to Morristown via Tazewell, Morgan hurried his troops forward and occupied the Gap that morning without losing a single soldier. He promptly sent Samuel Carter's Tennessee brigade towards Tazewell in pursuit, but the Confederates made good their escape by burning the Clinch River bridges behind them. Morgan proceeded to solidify the works and build up his force at Cumberland Gap, enlisting large numbers of East Tennesseans in his regiments. He would eventually abandon the Gap during Bragg's invasion of Kentucky later in 1862.
Tools
Key Facts
Union troops threatened Chattanooga, forcing Smith to leave the Gap, burning bridges over the Clinch River as he left
Morgan's Union troops marched into the Gap unopposed, the main problem widening the roads for wagons and artillery
Related